Kurtis are indeed a staple in every woman's wardrobe, every kurti catalog that is sold on the market is sure to be decorated in a different style and feature a different neckline suited to women with different fashion preferences.
 Necklines are a vital part of any women's clothing and when it comes time to sewing an outfit for any occasion many women would be lost with the endless options of necklines that are available. To combat this common dilemma, we have compiled a list of all our favorite neckline styles that you can place on any kurtis and still make it fashionable.

1) Short neckline
The most common neckline would be the short neckline as it is present on most necklines as it one of the first neckline developed and is, of course, the easiest neckline to wear. It consists of a slightly low dip that is not too high but at the same time, it is not too low either.

Planning on wearing a very short necklace, pair it with this neckline as it shows very little skin and it will be sure to make you rock the style with grace and confidence just how it should be worn.

2) Boat neckline
Boat necklines are seen everywhere and are characterized by a wide bowing shape that is most suitable for tall women who have wide shoulder structure. This style is very popular and can be seen on many clothing other than kurtis such as t-shirts and cholis.

An extra feature that can be added is a tie string at the backside especially if there is a boat style at the back also.

3) High neckline
The high neckline is the most simple option available and when worn there is no need to wear any necklace as the entire region will be covered up. The best plan of action to compensate for this is to throw in some decorating around the neckline or even wear some fancy earrings to balance the overall look.

4) V-neckline
V-neckline is a classic one that is used all over the world and is a big hit on the Indian market. It shows grace and elegance to any outfit that features it and this is the reason why every woman loves it.

Used mainly for regal designs and helps to highlight the embroidery or stonework that is present on the chest area of the outfit.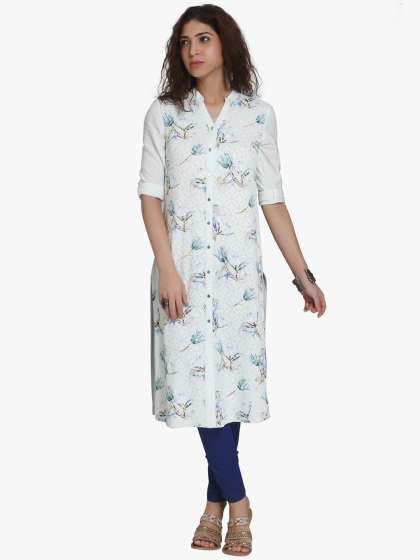 5) Closed neckline
Closed necklines are those that are completely sewn up and cannot be opened, this is not a disadvantage but rather an advantage because you now have more surface area to decorate, to decorate the neckline you can use embroidery, beads, sequins, tassels or even a different colour piping to add some zing to the overall outfit.

6) Scoop neckline
One deep round dip is what makes up the scoop neckline, it is a feminine style that can be used for heavily decorated kurtis that are to be worn for special events like parties and celebrations, where the kurti needs an extra special neckline. Furthermore, the backside of the neckline can also be made to feature the same dipping neckline but a bit wider and less deep.

7) Formal collar neckline
Even though this style is one that is usually seen on men's wear or formal shirts, the trend is picking up popularity among all women who find the style something very different and attractive.

That it is and can be a help in colder weather when you wish to button up and keep the cold air from hitting the chest area. Formal collar is usually teamed up with stripes, checks, or even just a plain solid color.

8) Mandarin neckline
The mandarin neckline is a common neckline that is considered to be very ethnic and it makes sense that it is seen on an item of clothing as traditional as the kurti, it forms a beautiful style that will make the garment appreciated for its simplicity.

The collar itself can be made using a different colour and type of fabric to add extra visual attractiveness. It can also pass as a semi-formal style that is best for office wear instead of a formal shirt style.

9) Keyhole neckline
These necklines are commonly associated with one or more loopy holes that are either in the centre of the neckline or placed at the top towards the left or right of the tunic, some tassels may be attached near the hole areas or you can opt for a single button closure.


It is definitely something new, different, and stylish and this is the reason why all the youngsters are going crazy over this specific neckline. If you ever get tired of the same old styles, go ahead and try this trailblazing style that will add flair to your look.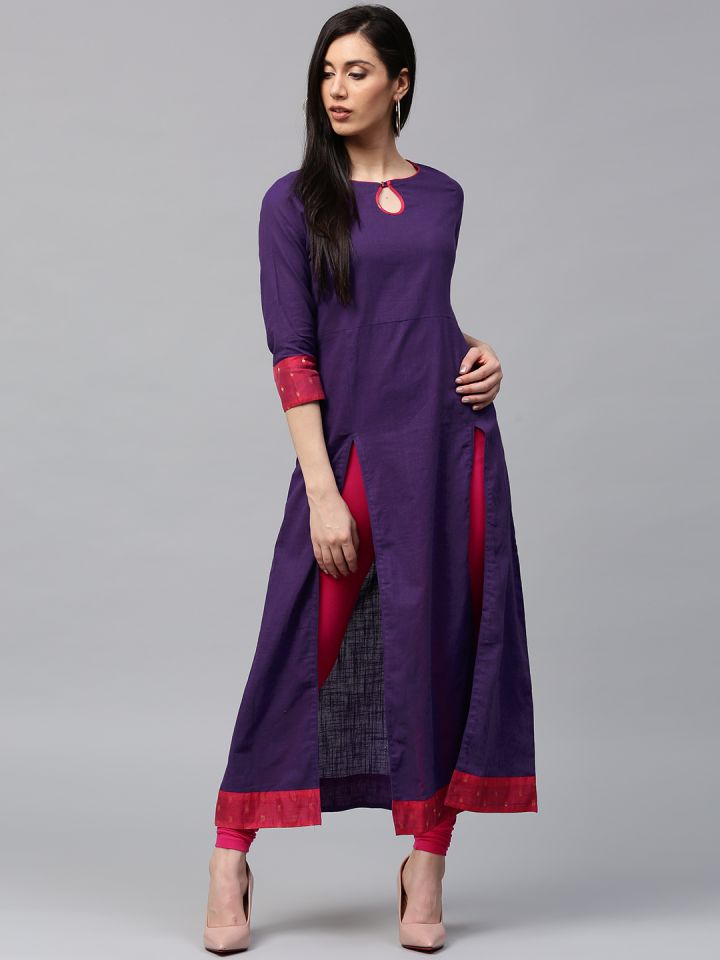 10) Off-shoulder neckline
A style that looks so modern and stylish at the same time is the off-shoulder neckline that has been seen on foreign women's wear for a long time. Thankfully the style has now arrived in India and is being incorporated into ethnic wear as well as casual wear. It is a great way to show off your shoulders and collarbones western/ethnic attire.

The styles mentioned above are just a pinch of what is out there, in actual fact, there are close to fifty different kurti necklines all waiting to be experimented with. Many women feel insecure or afraid to try out new trending fashion styles or even western-influenced styles because they are uncertain how it will look on them and if it suits or not. I say be brave and dare to be different.

With so many stylish necklines kurtis catalog to choose from, there is no reason as to why your wardrobe should be loaded with the old and conservative ones. Many of these new, stunning looks are available everywhere and at an affordable price.