Saree's is indeed an iconic and classical dress that is a representation of our country and culture. Although the saree has become an occasion strictly outfit. Many Bollywood celebrities have been seen wearing stunning sarees to red carpet events, family functions or even to high profile wedding events.

Saree has been revamped in recent times with the advent of fancy, trendy draping styles, most celebrities actually like to try all these new styles and sometimes the results are memorable and fabulous. Let us have a look at 15 times an actress looked stunning in a saree

1) Sonam Kapoor
It is no secret that this starlet is a fashionista and has been seen wearing stylish sarees on various occasions. Opting for elegant designer wear sarees and making them look even more stunning with suitable accessories and subtle makeup.

The look.
On this occasion, the look we are stunned by is a silverish white saree that features a bold border and is paired up with a high neck short sleeve blouse that appears to be crocketed. Here Sonam looks stunning and finishes her look with simple diamond jewellery, a silver clutch and here hair is worn up to give a sophisticated edge.

2) Malaika Arora
One actress that indeed is well known for being brave enough to try new fashion trends is no other than Malaika Arora. This brave beauty always stuns in the latest fashion trends.

The look.
This particular look was a Rina Dhaka saree that was translucent pink with a silver leaf design along the borders. The blouse is just as stylish with a silver front and a translucent netting back portion. Accessories include a large green beaded necklace and emerald and silver dangling earrings.

3) Shilpa Shetty
This actress is known to sport the saree on many occasions and nails the look every time. Pairing up the look with exotic accessory items and showing off her thick hair further enhance the look to its maximum.
The look
This time around Shilpa manages to pull off a look that features 3 colours, pink light blue and bronze-gold mixture. This may sound like an odd combination but just have a look at the picture to understand. Accessories are a gold bracelet and ring with an ear cuff.

4) Aishwarya Rai
Aishwarya Rai Bachan is India's sweetheart and is undoubtedly one of the most beautiful women in the world. This former Miss World definitely knows how to rock the saree look.

The look
Ash looks elegant in this white netting saree with a black long sleeved embroidered velvet blouse. Opting for a limited jewellery pairing.

5) Kareena Kapoor
A forever style goddess is Kareena Kapoor who never disappoints when it comes to the fashion department.

The lookTaking the jacket style saree to a new level, Kareena sports a black jacket blouse and a black and white striped saree. The look is completed with a heavy antique chain.
6) Deepika Padukone
This leggy beauty always looks fabulous no matter what she wears and how she wears it.

The look
This specific saree is a white and gold embroidered saree that she wore for her wedding reception in Mumbai. The actress looked angelic and the saree featured intricate embroidery with sequins and stones, everyone was left in awe as they saw the outfit.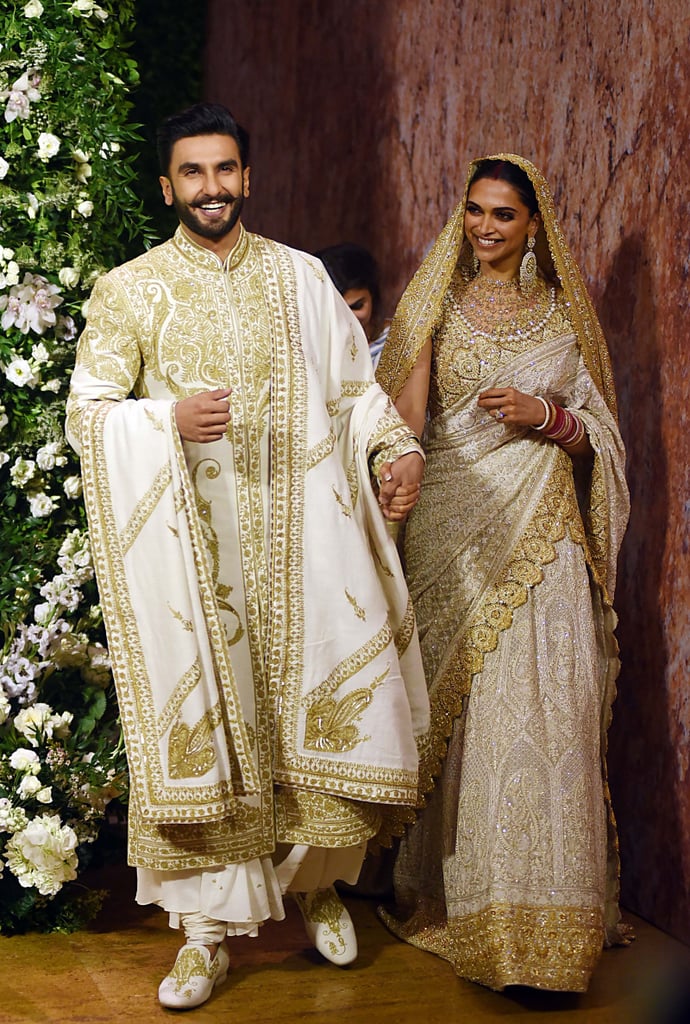 7) Katrina Kaif
This foreign-born star has made a name for herself in Bollywood and is now a name that every Indian recognizes. Whether the star sports a western outfit or a traditional Indian outfit, she always looks her best.

The look
In this instance, Katrina Kaif dons a translucent pink saree that bares sequin and embroidery work. The border of the saree is decorated with dangling beads. The blouse is also heavily embellished. The look is finished with some fancy beaded earrings and a simple bracelet.

8) Madhuri Dixit
This yesteryear actress sure knows how to look gracious in a traditional ensemble. saree is common wear for this star and rightfully so as she looks stunning in it.

The look
A particularly memorable outfit is this red colour saree that has shiny sequin work along the borders. Simple jewellery further enhances the look and makes Madhuri look timeless in this picture.

9) Priyanka Chopra
Priyanka Chopra is a famous actress not just in Bollywood but also in Hollywood. This star has the best of both worlds but always comes back to her Indian roots and loves to wear sarees to many events.

The look
Here Priyanka looks ravishing in this red chiffon saree. The spaghetti strap blouse was gold and matched the gold border on the saree.

10) Sushmita Sen
This former Miss Universe is a style icon and an inspiration for all young women.

The look
Sushmita looks grand in this Neeta Lulla black saree that she wore for a Wedding in New Delhi. Accessories are well-matched as matching earrings and this emerald, diamond, and pearl necklace enhances the overall look to give a show stopping appearance.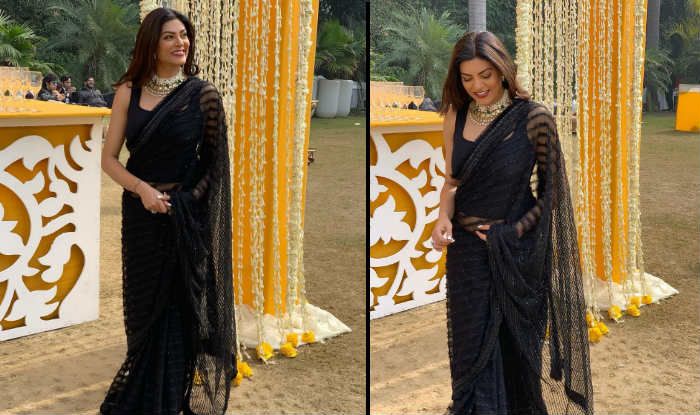 11) Sonakshi Sinha
This star made her debut alongside Salman Khan which led to the best start any budding actress could ask for.

The look
A graceful sight is what Sonakshi is in this all-white look. A transparent cape is added to give an edgy look. The saree is plain and simple but looks sophisticated enough for any event.

12) Anushka Sharma
This actress has come a long way in the film industry and has found a place in every Indians heart.

The look
The beige opaque saree looks gorgeous on Anushka. The shiny gold and silver blouse matches with the silver bordering on the saree. This outfit is emphasized with a dangly pair of earrings and almost no other jewellery. Her hair is neatly tied in a bun to complement her face.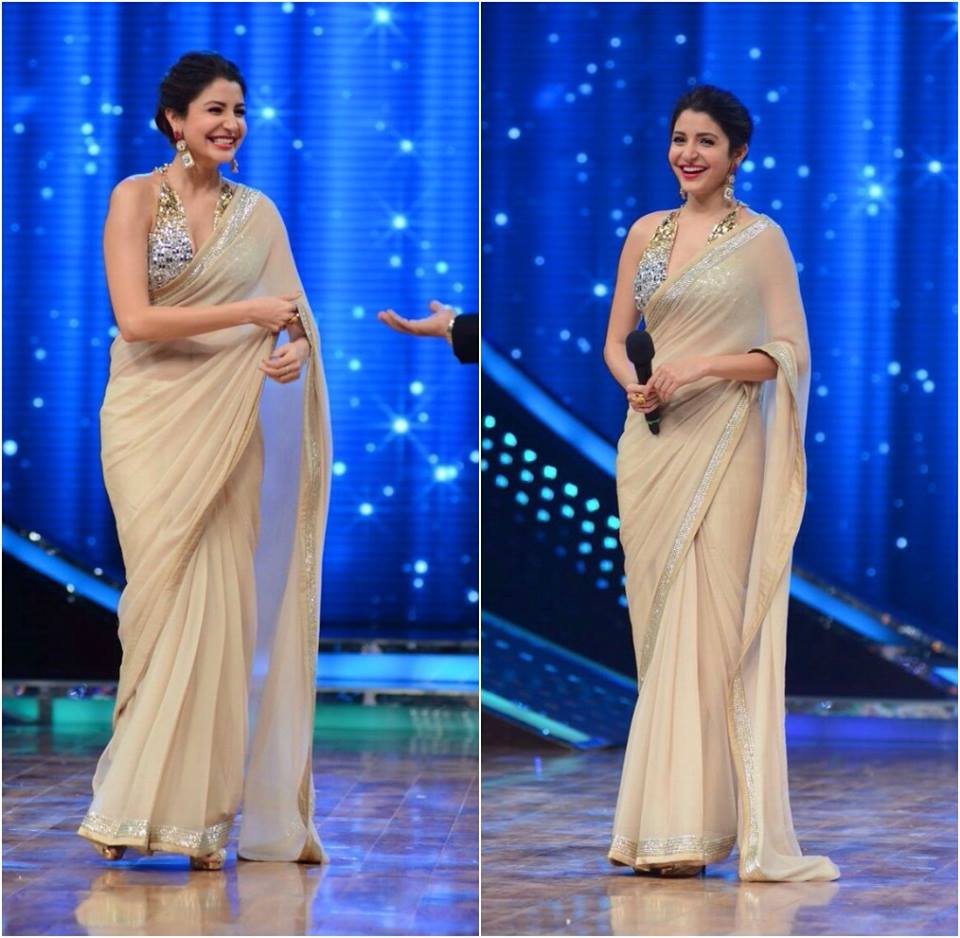 13) Jacqueline Fernandez
This Sri Lankan beauty who was crowned Miss Universe in 2006 has become a prominent member of Bollywood. Lauded for her fashion sense, she also plays a vital role in the Indian fashion industry.

The look
This time around the star wears a lilac coloured saree adorned by silver decorative works and a heavily embellished strappy blouse. Jewellery is matching with silver and pearls.

14) Alia Bhatt
This young star started her career at a very young age and this is why she is such a huge star today. Alia has many fans, most of whom are young girls.

The look
Here the style guru looks unforgettable in a multi-coloured saree as she accepts an award. The actress skips the accessories and just wears a pair of dangling earrings.

15) Rekha

f there is an actress that can pull off the traditional look, trust this classic actress to go ahead and do it with style.

The look
This time Rekha manages an all gold Kanjeevaram silk saree. Sporting gold and diamond jewellery to further enhance the look another stylish addition is hair accessories.

Every indian woman loves wearing sarees and you want to try sarees then you can buy sarees online even if you in the usa you can do sarees online shopping in usa which can save your time and money.