Do you know, I found it very difficult doing my own makeup? I can do my friend's makeup but when it comes to my turn, I never did it right. So I have learnt step by step lessons of essential makeup from few makeup artists. So I am going to tell you few of them.
Basic Tips before Applying Makeup
Before applying makeup, always prepare your face, even if you are planning to wear a simple makeup. It is important to take good care of your skin by cleaning and moisturizing so that your face gets free from excess oil.
Step 1 – Wash you face
Before applying makeup, always clean your face. For cleaning you face and neck you can use a cleanser according to your skin type. You can also use a cleansing water and cotton pads to reduce the oily appearance.
Step 2 – Exfoliate
Image Source: www.abc.es
Exfoliate helps you to remove dead skin cells from your face. For this you need to do is scrub in small, circular motions and then rinse with warm water.
Step 3 – Moisturizing
Once you are done with cleanser, the next step is to hydrate the skin with a moisturizer before applying makeup. Apply moisturizer on forehead, chin, cheeks and neck including the back. Now rub the moisturizer in, rubbing upwards and moving from the center out. Also, don't forget to moisturize your lips.
How to do Basic Makeup
Now you have prepared your skin for makeup. So here are the steps to do basic makeup:
Step 1 – Foundation: 
Choose the right foundation according to your skin tone before applying foundation. Once you select your foundation, start applying it from the center of your face and work outward. This will definitely give you the natural finish. Then blend foundation over your ears and neck. Apply foundation over your eyelids to reduce redness.
Step 2 Concealer:
Always apply concealer after foundation because you need not to use much concealer if you apply it after foundation. The best way to apply concealer is to draw a triangle with the base under your eye and the point towards your neck. Apply it slowly, don't use it all up at once.
Step 3: Curl the Lashes: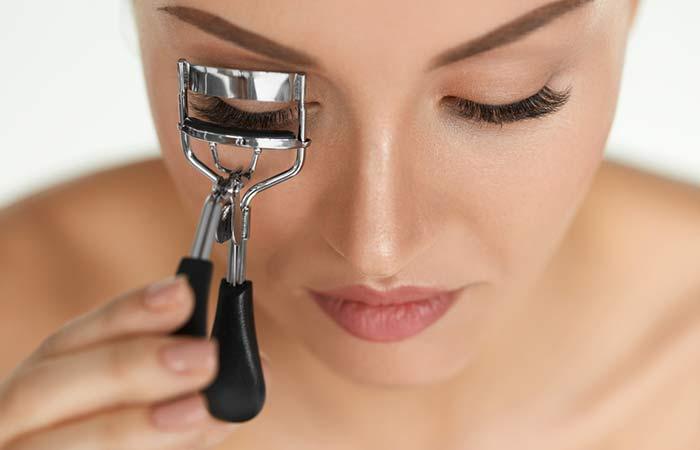 Image Source: stylecraze.com
Curling your lashes gives your eyes a perfect look. There are plenty of different eyelash curling methods. But crimping and primping is one of the best among all.
What You Need
• High Quality Eyelash curler (Always use a metal curler)
Step By Step Tutorial
1. Hold your eyelash curler up to your eye.
2. Place the curler in an upright position Get as much of the lashes as you can between the clamps. Gently close the curler on your lashes and squeeze lightly with a pulsing grip.
3. Slowly turn your curler upwards – its curve must align with the curve of your eyelid crease.
4. Now close the clamp – Don't blink or move. Close the clamp and hold it to 3-4 seconds.
5. Gently press your curler with the same pressure and move it from the roots of your lashes to the tip.
6. You can repeat this step again until you achieve the desired result.
7. Repeat on your second eye for curled lashes
8. Apply mascara after you completed all of the above steps.
You can also take eyelash extensions classes to learn how to make your eyelashes beautiful.
Step 4 Eye shadow: 
Always start with a eye primer. It helps in creating a smooth surface for the eye makeup. Choose your favorite eye shadow and brush. Use the brush slowly to apply the eyeshadow blending it into the socket line. Don't press a lot on all at once. Build the color slowly and in layers. Use short, slow brush strokes going in the same direction to blend colors.
Step 5: Lips: 
Always apply lip balm before using lipstick on your lips. This will helps to give you an even application of lipstick. Use a lip liner. Choose a color that matches your lips.
Once you finish all these steps, choose the right lipstick shade and start applying the color at the center of the lips. Ensure you apply it within the corners of your lined lips. Use a small concealer blush and work on your edges to correct the shape of your lips.
Final Touch:  For long lasting makeup , make sure to use a water-based finishing spray at the end. These sprays are built to hold your make up in place. If you apply the finishing spray, you need not to use touch-ups.
I hope you will like post. I am waiting for your valuable comments. Have a beautiful day! 🙂